Unternehmerinnen Award 2019
  
Am 23. Januar 2019 wurde ich von der Wirtschaftskammer Österreich und Die Presse, beim  Unternehmerinnen Award 2019, für "Besondere unternehmerische Leistung" ausgezeichnet. 
Den Artikel dazu finden Sie unter "Die Presse" 
https://diepresse.com/home/wirtschaft/economist/unternehmerinnenaward/5567507/Start-mit-20_Die-Gravur
Katara Falcon and Hunting Exhibition
Vom 3. September 2018 – 9. September 2018 wurde ich zur  "Katara Falcon and Hunting Exhibition" in Doha (Quatar) eingeladen, um die Handwerkskunst Live vor Ort zu zeigen.
Hier wurde ein Bericht über mich und meine Arbeit in der Tageszeitung veröffentlicht.
Die Zusammenarbeit fand mit der Firma Thawab Hunting statt
Kronen Zeitung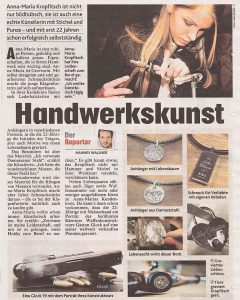 Am 9. Juni 2018 kam ein Beitrag in der Kronen Zeitung über meine Arbeit als Graveurin.
Ein riesengroßes Dankeschön an Hannes Wallner, für den tollen Bericht.
Bild und Textrechte bei www.die-gravur.at